My massage therapy practice is focused on treating orthopedic injuries, post-surgery rehabilitation, and for pain management.
During the initial intake, we take into account your health history and your current goals. Once my hands are working, they gather information by "listening, with a felt-sense" that informs the session. I combine a variety of techniques to affect your desired outcome. Home therapy and follow-up sessions may be recommended.
$120/hour
Techniques used
Trigger point therapy

Myofascial release therapy

Neuromuscular re-education

Active and passive release techniques

Biomechanical movement

Biofield (energy) balancing

Traction and compression

Assisted stretching
3866 Johns St,
Madison, WI 53714
Click map for directions.
For further questions and to schedule an appointment, please contact me.
Advanced Technique Trainings for Licensed Massage Therapists (LMT) & Other Licensed Body Workers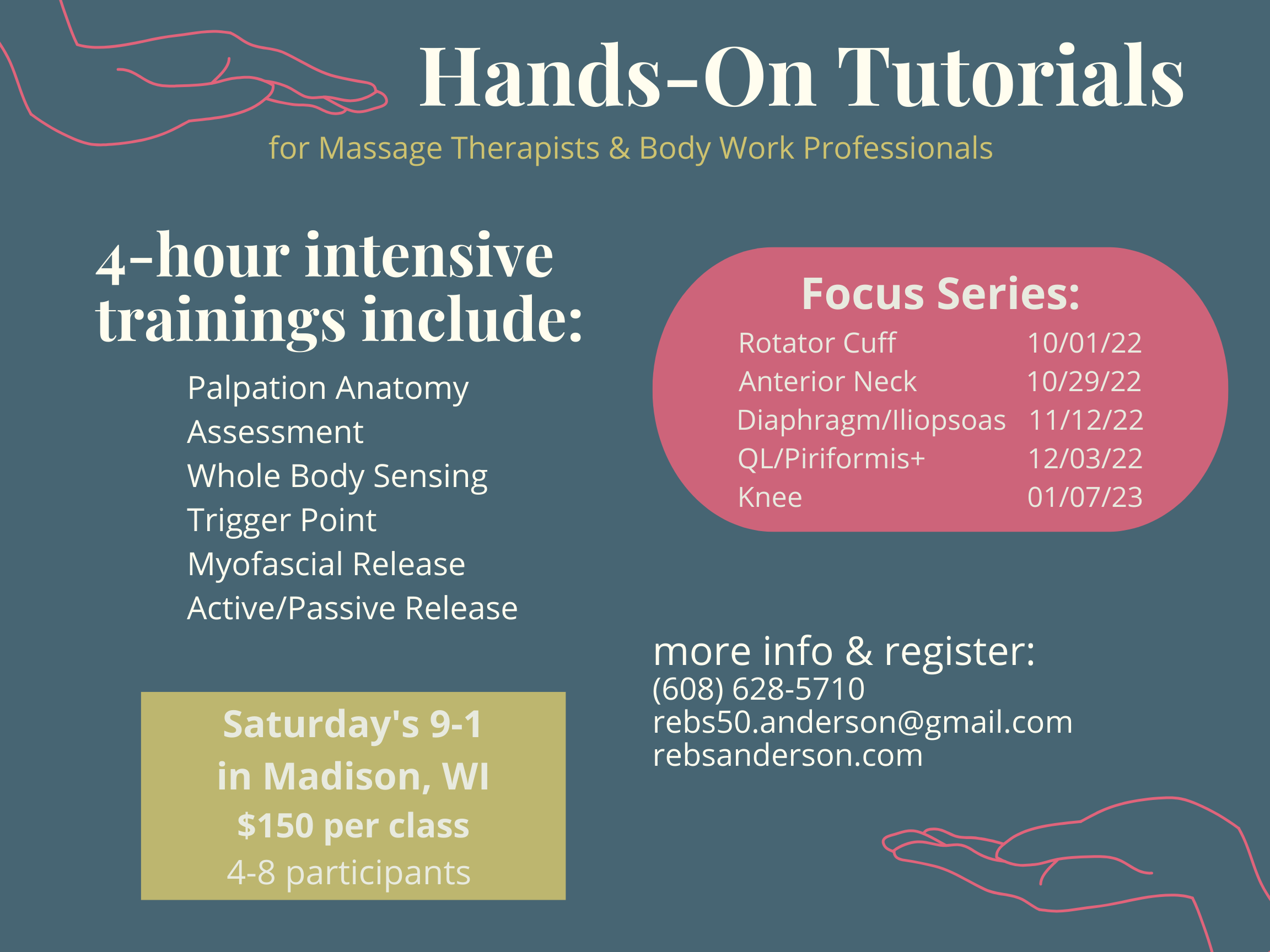 I have been practicing massage therapy for more than 30 years, and I've taught massage technique and palpation anatomy at three different schools for 12 years.
My work with you this year has been such a blessing. Your wise hands and deep knowledge and unerring intuition have served as incredible teachers to me along my path.
Always a great experience…most importantly, I leave feeling better with greater flexibility and mobility.
Unbelievable relief from pain, explained what was going on and really cared about me and my comfort.
Rebecca showed true concern for my issues. She asked specific questions to get to the core of my issue, and utilized her knowledge of physiology combined with her own intuitiveness to work at the root of the problem."  
Your skill as a massage therapist enabled me to stay physically strong during the last years of my career. It also kept me well to retire without injuries!
Join My Community
Sign up to receive occassional newsletter updates, tips and articles! 
Copyright 2020 All Rights Reserved